"Down the Hatch" is the fifth episode in the second season of Mickey Mouse. It aired on June 20, 2014.
Mickey and Goofy get trapped inside Donald's body after he pushed the button with his butt and they are accidentally shrunken to miniature size.
Directed by:
Storyboard by:
Written by:
Darrick Bachman
Heiko Drengenberg
Richard Pursell
With the Voice Talents of:
Absent:
Production notes
Edit
This is the first appearance of Donald Duck in Season 2.
instead of whistling at the credits Donald is heard singing.
The part where Mickey and Goofy in inside Donald's body is a Reference to SpongeBob SquarePants episode, "Squidtastic Voyage".
ContinuityEdit
9c457886162580d420febb666f44c5c0712d870f.jpg 31de27dbe2465669ed4e51492caa996470a812c2.jpg </gallery>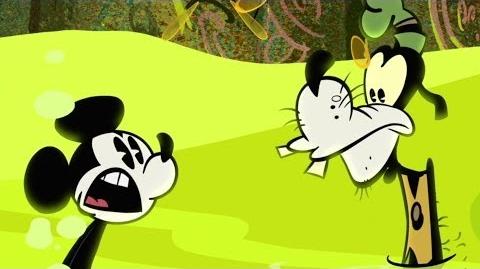 Ad blocker interference detected!
Wikia is a free-to-use site that makes money from advertising. We have a modified experience for viewers using ad blockers

Wikia is not accessible if you've made further modifications. Remove the custom ad blocker rule(s) and the page will load as expected.