Figaro
Personal Information
Gender
Male
Species
Cat
Friends
Minnie
Occupation
Minnie's Pet
Production Information
First Appearance
Gasp!

Figaro is Minnie's pet cat who appeared in Gasp! Figaro is a minor antagonist of Disney Channel comedy series Mickey Mouse and main villain of the said episode.
Appearance
Small and slender black and white kitten, white face, black nose, yellow eyeballs.
Personality
Eager, curious, impatient, tricky, caring, playful, sweet, cute.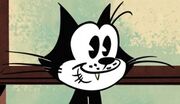 Ad blocker interference detected!
Wikia is a free-to-use site that makes money from advertising. We have a modified experience for viewers using ad blockers

Wikia is not accessible if you've made further modifications. Remove the custom ad blocker rule(s) and the page will load as expected.