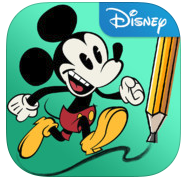 Mickey Mouse: Mash Up
is a
Mickey Mouse
app based on the episode
No Service
.
iTunes Description
Edit
Hijinks and hilarity ensue in the new Disney Mickey Mouse short, "No Service!" With this app, kids will have tons of fun by drawing, playing games, and generally helping Mickey get out of trouble everywhere.
Follow drawing prompts to draw pictures that will help Mickey Mouse.
Play fun activities as you join Mickey in trying to overcome silly obstacles!
Features:
Actual clips from the short "No Service" are included with activities!
Hear quotes from the short, and listen to Mickey as the narrator of the app!
Play fun activities to help Mickey Mouse. If you win, so will Mickey!
Follow the prompts to draw useful items to help your pal Mickey get through the story!
Make a gallery of your own Mickey drawings!
External Links
Edit
Ad blocker interference detected!
Wikia is a free-to-use site that makes money from advertising. We have a modified experience for viewers using ad blockers

Wikia is not accessible if you've made further modifications. Remove the custom ad blocker rule(s) and the page will load as expected.