No Service
Season 1, Episode 1

Broadcast Information
Airdate
June 28, 2013
Production no.
001
Viewers
3.6 million
Credits
Written by
Paul Rudish
Directed by
Paul Rudish
Storyboard by
N/A
Episode Guide
Previous
N/A
Next
Yodelberg
"
No Service
" is the first episode of
Mickey Mouse
. It is included on the Muppets Most Wanted UK DVD and Blu-ray. It premiered on June 28, 2013.
Mickey and Donald try to buy a lunch from a beachside Snack Shack, but are unceremoniously turned down because of the classic "No shirt, no shoes, no service" admonition (of course, Mickey doesn't wear a shirt, and Donald doesn't wear shoes!).
After seeing a snack shack, Mickey and Donald attempt to buy a picnic for Minnie and Daisy, but due to the "No shirt, no shoes, no service" policy they are promptly removed by Goofy.
After fighting over who gets to wear the appropriate clothes, Donald begins to verbally torment Mickey (who now has no clothes), the latter hides, only to spot Minnie and Daisy walking up the pier.
Not wanting to be seen in his current state, Mickey tries to cover up his shame (and his body parts), only to fail every attempt; it's only through some quick acrobatic manoeuvres does he get back his and Donald's clothes, and the picnic to boot.
Daisy is thoroughly embarrassed by Donald now not having any clothes, and she, Minnie and Mickey leave him to be harassed by the other beach-goers.
Story by:
Written by:
Directed by:
With the Voice Talents of:
Production notes
Edit
This was the third time in Mickey Mouse history that Mickey was naked. The one of the cartoon's that Mickey had appeared naked was Mickey and The Seal from the late 1940s. The other was Mickey's Delayed Date.
This was another time that Donald was naked, but this was the first time Donald was caught by Daisy who told him that he was naked in public.
Goofy saying "No Shirt, No shoes, No Service!" 

is a Reference to 

SpongeBob SquarePants

 episode, "The Algae's Always Greener".

Spongebob and Goofy saying "No Shirt, No Shoes, No Service!".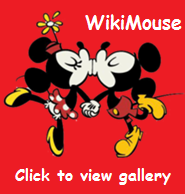 Other Languages
Edit
Ad blocker interference detected!
Wikia is a free-to-use site that makes money from advertising. We have a modified experience for viewers using ad blockers

Wikia is not accessible if you've made further modifications. Remove the custom ad blocker rule(s) and the page will load as expected.