Panda-monium
Season 1, Episode 8

Broadcast Information
Airdate
August 2, 2013
Production no.
008
Viewers
3.2 million views
Credits
Written by
Aaron Springer
Directed by
Aaron Springer
Storyboard by
N/A
Episode Guide
Previous
Gasp!
Next
Bad Ear Day
"Panda-monium" is the eighth episode of Mickey Mouse. It premiered on August 2, 2013.
Mickey attempts to photograph a panda bear at the Beijing Zoo (Chinese: 北京动物园) from many different perspectives but eventually becomes mistaken as a panda and has his picture taken.
Story by:
Written by:
Directed by:
With the Voice Talents of:
Absent:
Production notes
Edit
The title is a play on the word "pandemonium".
This is the forth time Minnie is absent.
This is the first cartoon to have English subtitles.
ContinuityEdit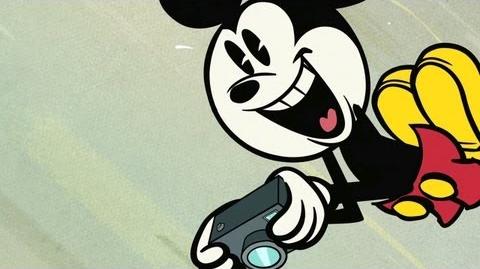 Other Languages
Edit
Ad blocker interference detected!
Wikia is a free-to-use site that makes money from advertising. We have a modified experience for viewers using ad blockers

Wikia is not accessible if you've made further modifications. Remove the custom ad blocker rule(s) and the page will load as expected.