"Third Wheel' is the seventeenth episode in the first season of Mickey Mouse. It premiered on February 14, 2014.
Ren and Rocko vs Mickey and Minnie
Story by:
Written by:
Directed by:
With the Voice Talents of:
Production notes
Edit
There is the only time so far that Goofy Goof ate Minnie Mouse. There is a Wikipedia: Diary of A Wimpy Kid: The Third Wheel It is unknown how Goofy Goof got in the restraunt though.
ContinuityEdit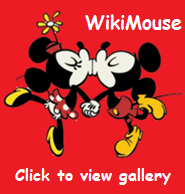 .
Other Languages
Edit